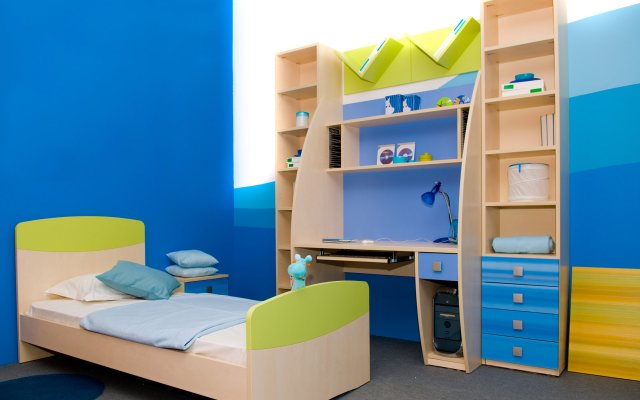 kids room wall Painting
The best way to color a kids room is to involve him in the process to make it a fun activity. While choosing the colors show him the rainbow of colors and ask him to choose his favorite color. A kids room is a little territory where he spends most his time playing with his friends and toys, doing his school work and other activities. A dull toned room will probably look out of place. Bright, colorful and cheerful walls exhibit creativity and excitement & generate a positive environment for the kids. You can choose from several themes like their favorite cartoon characters, nursery rhymes, jungle themes or fairytales and base the wall décor based on these themes.
Here are some great ideas for painting your kid's room :-
Choosing right colors would add some meaning to the whole activity. Every color has its own meaning like Green color is for peace. Yellow signifies cheerfulness, even a dimly lit room is brightened up with this color. Red symbolizes zeal and energy. Orange creates lively and fun-filled environment. So let your children participate and choose their favorite color as the room should reflect a child's personality.
One should be very careful while choosing the paint for the kids' room which must be eco- friendly and odorless. As ordinary paint fumes can make the kids feel dizzy and sick. You must ensure that the paint is durable and washable so that you can wash off the messy hand prints and other marks your child might create.
You can use different painting patterns, wallpapers to make your kids room brighter, colorful and more cheerful. You can paint their walls with different broad color stripes or in geometric shapes. You can add cartoon or fairytale characters, flowers, butterflies, fishes on their walls. Give each window a different bright color to make the room more vibrant.
A decorative scene on the wall can become an exciting focal point. Opt for a fully themed room or wall art. If the kids are nature and animal lovers then go for a jungle safari theme, Disneyland theme if they love cartoons, Spaceships and satellites themes if they are fond of universe. You can go as far as your imagination takes you for this purpose. There are many mural kits available in the market to make it easier to paint yourself or you can hire a professional artist.
Most people forget the ceiling when decorating the kids' room. It can add more fun and excitement to an ordinary room. You can paint fluorescent plotted planets, stars and could bring the moonlight on the ceiling of their room for a dreamy touch.
Create a space for your child that is appealing for them and make them want to spend a lot of time in their own private haven.
Companies: - Nerolac, asian paints, paint solution, infibeam, sanbros, snowcem paints, apollopaints