<![if gt IE 6]>
<![endif]>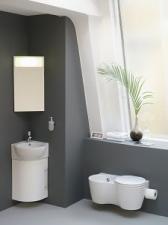 Designing a small bathroom requires special consideration as there are space limitations and fewer options. Small bathroom designs can not only add value and usability elements, but they can even make the tiny space look appealing.
So, set aside your apprehensions, and grab a cup of coffee and settle down to read our small bathroom style and design tips to transform your very own closet bathroom space into one of joy and pride.
Pick The Right Colors As is true for decorating any space, small bathroom designs must incorporate use of the rich colors. Colors in light shades help create the illusion of space. Try to avoid single dark bathrooms as dark and heavy colors make small spaces look smaller. Think light, think pastels; also these colors will make your single use bathroom feel fresh, relaxing, and airy. Using the right mix of colors for walls, floors, small bathroom cabinets and accessories will give a great first impression. Utilize Unused Spaces Making full use of unused spaces, such as corner and overhead spaces is a value tip for breathing air into your small bathroom.
If you are interested in putting in a bath tub, pushing it against the wall will take care of any unused space at the back. Use corner basins as well as a corner shower to make the most of the unused spaces. You can also hang your cabinets, racks, etc on overhead spaces. Most importantly, remember that small bathroom layouts need to have the floor space as free as possible. Choose Smaller Bath Accessories Going with smaller sized bath accessories will again give the impression of having a big bathroom.
Opt for small bathroom vanities that are specifically made for single use bathrooms or small bathroom cabinets that ensure that despite their size they offer comfort in usage. Use Mirrors What's the one this no bathroom can do without? Mirrors! Unadorned, simple mirrors in round shapes will make your small bathroom look perfect as well as add width. If the single use bathroom is not too cramped, experiment by using a wide mirror that stretches from one end of the wall to the other. The fact that reflective surfaces create illusion of wider spaces is a well loved and very commonly used interior design trick!
Capture Natural Light With Wide Windows After mirrors, it's time to utilize natural light to extend the wider space perception. Play with natural light as much as possible. A window over the bathtub can usher in not just natural sunlight but also fresh air. Lights are great to create a warm ambiance and are vital small bathroom styles elements. Wide light fixtures that throw in lot of light throughout the small bathroom are very attractive. Think Minimalist Think LESS! Think minimalist. Don't over-accessorize. Stick to the essentials and forget about hampers, extra cabinets, and towel racks. Remember, small bathroom designs only require some creativity and a unique approach.
A little imagination and clarity in vision can help your convert your small/single use bathroom (under stairs) into a personal haven…just the way you wanted it to be.