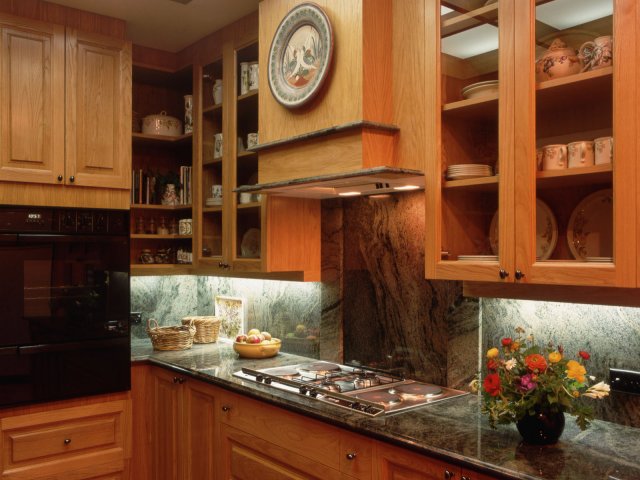 Kitchen Cabinets
Cabinets are an essential part of modern kitchens adding storage space and a design element to your cooking space. Cabinets are available in a variety of designs and colors and can be chosen to suit the d├ęcor of your kitchen. Cabinets are an indistinguishable element of modular kitchens designed to utilize the space in the best possible way and reduce the clutter.
Cabinets are available in a variety of materials and ranges a few of which are mentioned here :-
Maple is the most commonly used wood for kitchen cabinets which is quite durable & versatile. Due to its fine, uniform grain it gives a great finish. Maple can also be painted or stained with ease and can match a variety of kitchens. One of the main disadvantages of maple is that it can turn yellowish after a while which can be cured by applying a coat of paint.
Another option for cabinet material is melamine. It consists of a coating that goes over the base material & provides protection against any scratch, stain or flames. Melamine is available in plain white, faux wood grain & retro. The efficiency of melamine entirely depends on the material used underneath it. It prevents moisture to enter the base material but if the coating of melamine is cracked, it would not take more than few hours for melamine to soak moisture. Despite of a few disadvantages, it is a relatively durable choice for kitchen cabinet set.
Metal cabinets are also making a comeback which is a traditional kitchen cabinet style. Some people who use these cabinets feel that metal cabinets were never outdated or never lost their popularity ranging from stainless steel to copper. Using stainless steel can help you create a warm and inviting kitchen. Metal cabinets have a disadvantage of being noisy and rustic, but can prove to be quite durable.
Oak is giving a tough competition to the popularity of Maple. It is quite durable but not as versatile as maple. It has a distinctive look which can make it look old fashioned and restricts it from fitting in the modern kitchen style. However if you like the ancient looks you can opt for oak.
As per your kitchen style and requirements you can choose the right material and make your kitchen functional as well as attractive along with increasing its durability.