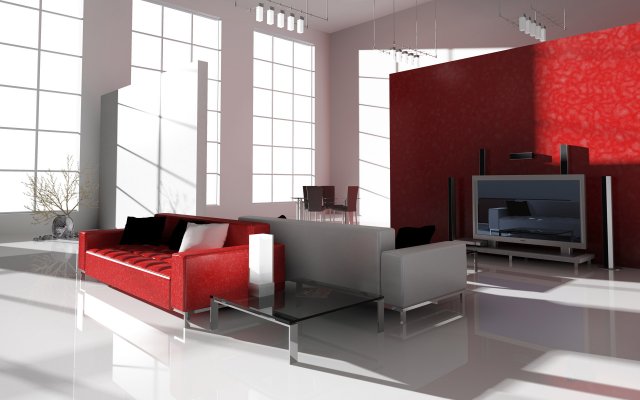 Modern Living Room Vastu Tips
Living room is that area of the house which is used for entertaining friends, family or guests or for family activities. Everyone has different ways of decorating the living room but the common idea behind it is to make the place warm, attractive and hospitable to the visitors. The incorporation of Vastu in your living room design helps removing the negative energies and bestowing a healthy and happy life.
You can follow the following suggestions to incorporate Vastu in your living space for a positive aura :-
According to Vastu Shastra, the living room should either be in the east or in the north. Any other direction is not at all recommended. The benefit of the positive energies increases if living room is situated in the northern side. The flooring slope in the living room should be towards the east or northern side. Heavy furniture or other heavy materials inside the room should be kept in the west or south direction. The furniture should be either square or rectangular. Avoid circular, triangular & egg shaped furniture as far as possible.
Color scheme should be white, blue, green or yellow. Try to avoid red and black as they are responsible for distraction. Chandelier should not be placed in the centre of the room. Rather it can be placed slightly towards the west. The Vastu theory behind this is that the heavy weight of the chandelier & pull of gravity must not fall on the Brahma place.
Any type of air conditioners or coolers should be in the west and not in the south east direction. East facing & west facing doors prove very auspicious for a living room. Television should be kept in the south east corner. If it is kept in the north-west direction, it tends to be viewed for a long time which can result in the wastage of time of a person.
The telephone should not be placed in the south-west or the north-west corners. Try to place it in the East or in the south-east or in the north. If you like to put some paintings etc make sure you avoid the portraits of birds, women, weeping children or any kind of scene from wars as this brings disharmony to the house. The portrait of god or waterfalls in the north-east corner helps in attracting positive energy. Therefore it is highly recommended.
The sitting arrangement of the head of the family should be towards the east or north direction.
Make sure there is no outlet in the middle of the living room. The ceiling of living room is auspicious if slanting towards east or the north direction.