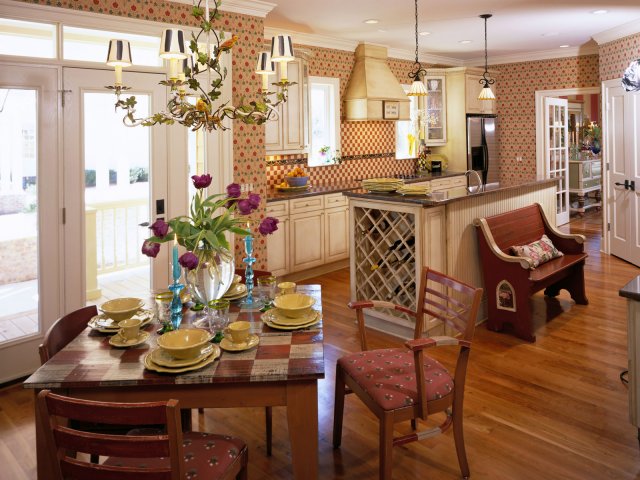 Kitchen Flooring
Practicality and durability should be the prime concern while choosing the floor of a Kitchen. It is a space where water and other liquids are found in abundance and are frequently spilled on the floor in the course of work. Therefore rugs and carpets are not suited for this area. Various options for the right kind of flooring for kitchen are available in the market and that can prove to be quite confusing. We suggest you to take the following factors into consideration before you finalize the kitchen floor:-
Water- and Stain-Resistant
The floor should be easy to clean which is the case with most of the flooring materials except carpets. If there's a chance that you may get pools of water standing on your floor for a long time, you should buy flooring that's resistant to it. In addition, oil or grease spills can stain matte flooring if you neglect to clean them up promptly. Tiles and pre finished vinyl floors are a good option as they repel water and grease spills and thus are nearly stain-proof. Rubber flooring, a popular choice today because it is skid-resistant and comfortable to stand on for hours on end, repels water, but oil spills can stain it.
Ease of Cleaning
Kitchen floor has to be kept clean especially if you have kids or pets, or if any one in the house is allergy-prone. Choose a floor which can be cleaned easily with a sweep or light vacuuming. Wooden floors or stone floors may wear off with frequent washing and hence require more care.
Durability
Kitchen flooring is not a task to be taken up frequently and hence a durable floor is a must. Vinyl and linoleum are not as tough as tile, stone, or hardwood, and start to show wear over time if not maintained properly.
Visually attractive
Kitchen is an essential part of the house and it is important that it should look as attractive and appealing as rest of the house. Choose a floor which is functional and at the same time welcoming as you might want to entertain your guests in this area.
Cost of Flooring
The cost of flooring depends on the material and complexity of installation. Vinyl, linoleum, laminates and ceramic tiles are categorized under less expensive materials. Make sure you carry a plan with the exact measurements of your kitchen when you buy the kitchen flooring to enable the retailers or the sales executives to update you with a confirmed price.
While choosing a floor for your kitchen, consider the overall design and color scheme to give your kitchen a complete and comprehensive look. Amalgamate the comfort and d├ęcor factors and you will end up with a perfect floor for your cooking space.