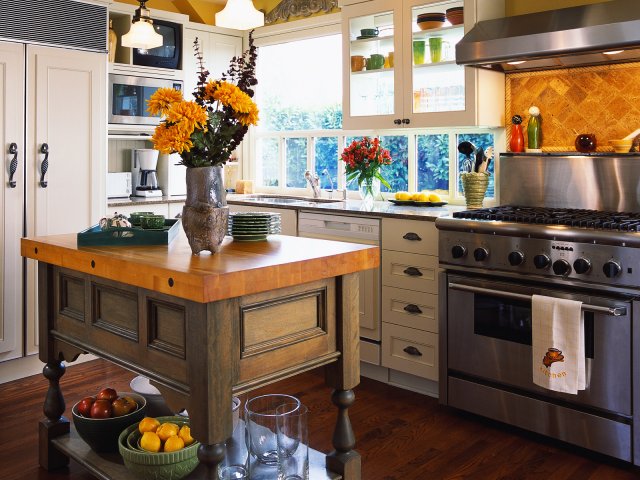 Kitchen Feng Shui Design Tips
Kitchen is not only a very important part of our homes; it also denotes wealth, bounty and results of labor. Kitchen connects us with the energies that nourish us physically, financially and emotionally. As per Fengshui, the most essential element in the kitchen is the gas stove. It has a great impact on your financial situation and it does not matter even if you rarely or never cook. Your stove is termed as wealth generator in Feng Shui. To prosper financially one should make sure it works the way it should in order to avoid the bad effects. While applying Fengshui, consider the Gua or Chi it belongs. Gua means generating energy in terms of house direction. Besides this, year of birth of the house owner also is an important aspect to be considered.
Here are few of the Fengshui kitchen tips which may prove useful in achieving a healthy life :-
Fengshui Kitchen colors
You may consider Fengshui Kitchen colors which should be bright & imbibe the feeling of freshness in the kitchen. You may use red and earth tones, or green which adds energy of wood to feed the stove's fire & allows it to provide prosperity with addition of a touch of purple. Transformation of cramped kitchens with soft white or pale yellow color along with cheerful accessories can lead to prosperity. Black and chrome appliances will benefit from green, purple & red colors as they provide health and affluence.
Avoid Cluttering
Cluttering should be avoided as it invites negative energies into the home. You should get rid of things which you use the least and fill your kitchen with appliances which you enjoy keeping the most. Fengshui is a wonderful way to transform the energy in your kitchen. Stove should not be seen from the main entrance door. Drainage system if created under the stove brings bad luck to your health and financial crisis as well. A stove with dirt all around is a source of negative energy so make sure you keep your stove top and microware completely clean.
Help yourself
Many Fengshui kitchen products are available in the market which can improve the inflow of positive energies in your home. The best and easiest way to improve the chi of Kitchen is to have a good and healthy preparation of food. Make sure your kitchen canisters and other containers are at least more than half full as far as possible. Whenever you would see these containers, your subconscious memory will register prosperity and attract positive energy to your cooking haven.