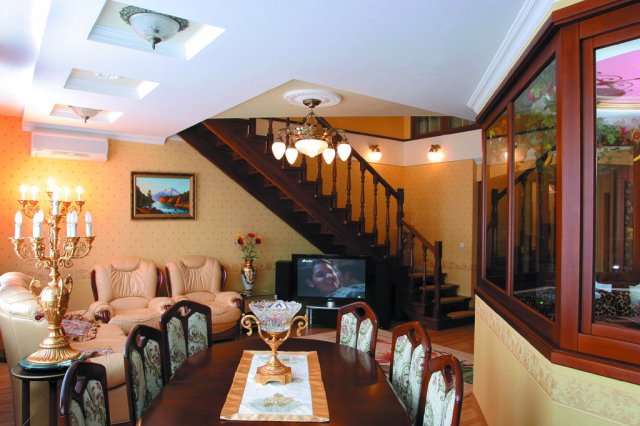 Living room interiors
A living room is where you treat your friends as your family and your family as your friends!
Living room also known as a drawing room or a lounge is often one of the most used rooms in the house. Unless you have a separate den (Family or Recreation room), the living room is used for entertaining guest, watching television, reading or family get-togethers too.
Hence designing the room carefully becomes a necessity, taking care of its functionality as well as ambience. You can begin with the creation of an overall plan along with your family about the paints, furniture, walls, windows, accessories etc. By this you can try and stick to your budgets.
Some suggestions for you while you design the living room – the face of your home :-
The most critical decision for designing any room is the furniture as that involves the major chunk of the overall cost. The first step is to decide the number of people you wish you entertain at one time in the living room. The seating requirement will help you decide on the furniture. A nice amalgamation of chairs, sofas and couches would be ideal. If you would be using the room as a family den too remember to dedicate space to television and other entertainment equipments.
A display of antiques and collectibles is an important part of your living room. It is a conversation starter and a corner full of memoirs can become your personal relaxation spot.
You can play to your hearts content with the lighting of this room. A nice combination of functional as well as decorative lights can set the mood for the gathering.
Chose the colors of living room as you would like to reflect the ambience of your house. They can be bright and alluring or serene and calming. Choice of colors is important for the walls as well as the furniture and upholstery. You might also want to add some plants and greenery to enhance the ambience of the room.
It is important to have a point of focus in the room and then arranging your furniture around that focal point. A clumsy arrangement of furniture makes it difficult to move around or even have conversations. A focal point can give you directions on how to arrange furniture around the room. This can be a corner of collectibles, windows, television or even a fireplace.
Interesting accessories in the room can reflect your personality and also can be the most enjoyable part of designing your living room. Photographs and frames, candles, lamps, rugs, cushions, all these can give a definite character to your room and make it look gorgeous!