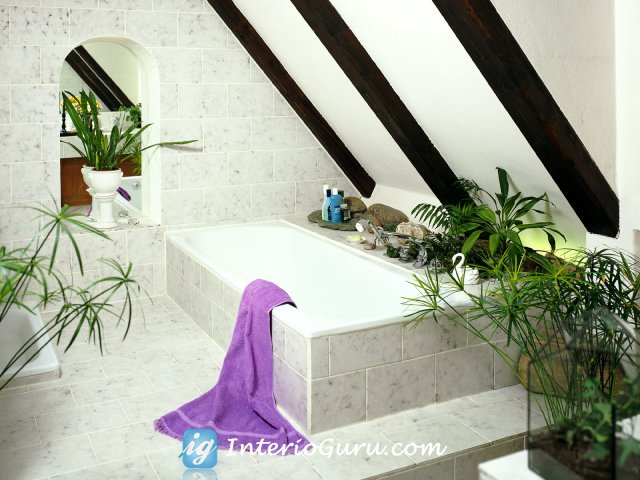 Bathroom Flooring
Along with visual appeal and durability, the bathroom floors must also have the ability to handle moisture and humidity resulting from daily use and any possible leaks that could occur in the future. Due to this constraint the options available are limited. The flooring should be resilient, resistant to dirt, easy to clean; yet striking and calming. It is definitely a difficult task often taken lightly, and we conveniently opt for ceramic tiles, the flooring best known to handle humidity and moisture without exploring other options.We suggest a few alternatives to help you choose the best floor, for your grooming space.
Flooring Ideas
Before finalizing the kind of floor best suited to your needs, it is essential to ask a few questions. Do you need a luxurious bathroom or a simple one? Are there children in your house who would be visiting the space? What is your budget for the various components of the bathroom along with their installation charges?
Based on these considerations you can opt for one of the following flooring suggestions:-
Ceramic
An age old choice of many, ceramic no doubt is the best in terms of cost, variety, ease of cleaning, installation, durability and resistance to humidity and moisture. Ceramics have caught on with the modern design trends, and are available in unlimited colors and patterns.
Marble
If luxury is what you want your bathroom to reflect, there cannot be a better choice than the traditional Marble. A perfect choice for contemporary as well as traditional bathrooms, it may be heavy on your pockets, but exhibits class and taste. Marble may get slippery when wet, but that can be taken care of by having rugs in your bathroom. Available in natural colors, it is a highly recommended choice for those who prefer extravagance.
Stone
There are other natural stones available if you want to avoid marble for your floor. They have the same luxurious look and provide durability and moisture resistance. Available in several colors, it might be heavy on installation but still a popular choice. Granite is an example of a favored stone for bathrooms.
Laminate
As wooden flooring is not advisable for bathrooms for obvious reasons of wood not being conducive to water, laminate can help you get the same look, as well as ease of installation, moisture resistance and durability.
Vinyl
A cost efficient choice of flooring, vinyl is easy to install and is fast becoming a popular choice. It is very economical and available in a wide range of colors and designs. However its durability is a questionable factor and it is not highly mold resistant.
Where Bathrooms are no more just a functional component of the house, interior designers have generated various attractive options for all elements pertaining to this space. Flooring is a long term investment and should be thought of and explored thoroughly before you decide one for your essential space.