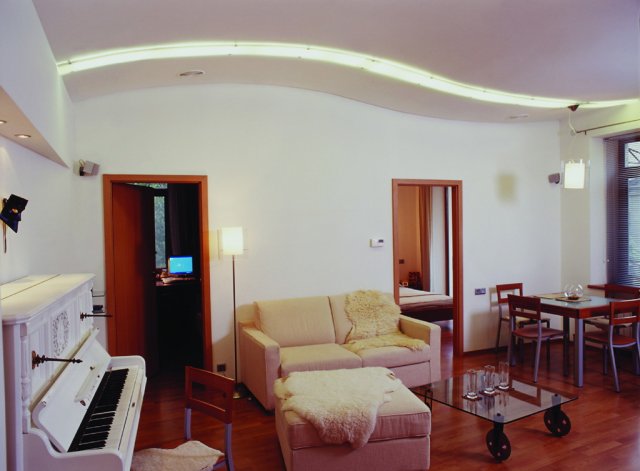 Modern Living Room Furniture
When you visit any home, it's the living room which makes the first impression and the perception which you will carry with you when you leave the house. It reflects the status, personality and taste of an individual. Living room furniture is the primary component which decides the look of a room. The furniture and upholstery basically set the mood of a living area. A good choice of furniture combined with the right fabrics and accessories can take the look of the room to a new dimension.
A few tips to enhance the look of your living space using the right kind of furniture :-
While placing your furniture, make sure you have a good access to all the rooms and minimum cluttering. Cluttering can be fatal to the elegant ambience of the living room. Make sure you just have the required and selected number of pieces in your living room.
Sofas are the tricky ones to pick from a variety available in the market but don't get carried away with the flood of options available. If you have small living room you can go for 2 seated sofas instead of the regular ones. The sofa upholstery also plays a major role and you can choose between fabric, leather or synthetic leather.
Select a pleasing natural fabric considering the colors of your choice, size of the room and color of the walls to give the room an enhanced look. The right color and material of the fabric will augment the beauty of the sofa. Your sofa color decides the theme color to your living room. Leather gives an elegant and royal look to the space. However it is difficult to maintain especially if you have kids around.
A creative and beautiful center table can be functional as well as can add to the beauty and elegance of the sitting area. You can choose from a variety of designs and styles like glass top with wooden base, wooden chests with handicraft works, wooden tables in various shapes and colors and many more varieties available easily in the offline and online markets.
Other than the sofa and center table, you can have side tables with drawers, a magazine/paper stand, a showcase to display your antiques and photographs, a stand for your entertainment equipments like television, home theatre or music system etc. But remember that they should compliment well with the overall visual outlay of the room.
Where cluttering is not advisable, the living room should not look barren because of lack of interesting pieces. Remember that this space is a reflection of your personality and lifestyle. Style it up as you would like to dress up for a special occasion and the results would be fabulous.