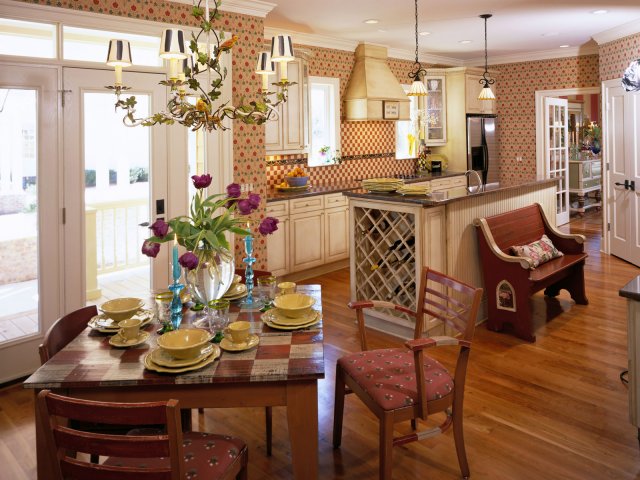 Kitchen Furniture
Homes today are evidently luxurious and extravagant in their forms and kitchen is no exception. In fact in most of the households it is the busiest activity area. Today, Kitchen can be said to have the most exclusive state of the art appliances, furnishings and fittings. Earlier the most a kitchen could boast of was a stove, refrigerator, counter top and some cupboards. However, now many appliances and fixtures and added on like microwaves, electric cookers, designer counter tops, tables and chairs and even televisions and radios at times. The contemporary kitchens are moving towards being minimalist.
There is a move towards simplistic design and more movement space. Modular kitchen is an answer to many such needs where the stress is on minimum clutter and maximum functionality. It provides a combination of simplistic style with high end materials and modern equipment and conveniences. Most of the people think that a modern kitchen is an out of reach expensive affair, which is not true. Converting a traditional kitchen into a modern one does include costs, but its advantages are much more than the expense.
Doing little research can get you complete knowledge of purchasing the kitchen furniture which would make it look more elegant and more expensive than its actual price. It is strictly recommended for shoppers that they should not take hasty decisions. They should rather properly research about the product to get the best deal.
Modern kitchens seen in homes today incorporate smaller furniture pieces, in order to get more space while creating an enjoyable and stress free environment. While designing your kitchen, it is advisable to map out your new kitchen on a sheet of paper with complete measurements. This will give a fair idea of how much space you need and where the things fit best according to their size.
Some specific furniture pieces that you would require are kitchen cabinets and storage, pantry storage furniture, kitchen sink, counter top, table, chairs and a few jars and utensils stand if required. These are generalized elements and would differ as per your kitchen space and design. However do not buy anything without looking for a good deal as the market is flooded with various kitchen items and you can find good deals if you choose carefully. Try online shopping for Kitchen stuff as many sites are now catering to this need segment.