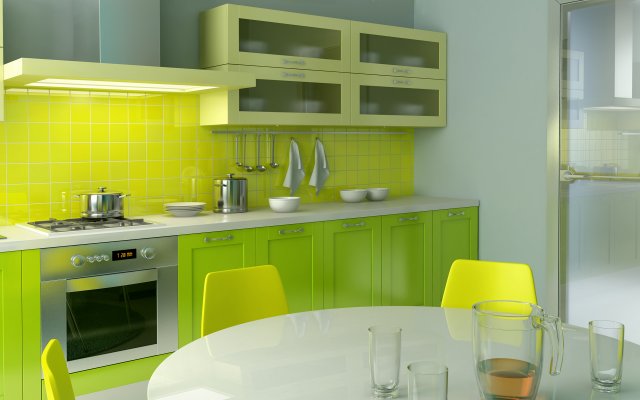 Kitchen Vastu Ideas
Kitchen is considered to be a place which provides nutrition and health to the family and is a source of positive energy in the household. Kitchen Vastu is an important element to be considered while designing or re-decorating your kitchen. Connecting and utilizing the kitchen appliances, furniture and furnishings and placing them in the correct direction can bring a definite change in your life.
Here are a few Kitchen Vastu tips which can be considered while constructing a new kitchen or redesigning your kitchen.
The placement of the stove is the primary concern as it can have a great impact on your financial situation and it does not matter even if you rarely or never cook. Your stove is termed as "wealth generator" and to prosper financially one should make sure it works the way it should in order to avoid the bad effects. Cooking Gas or Stove should be placed in the south-eastern part of the kitchen. Sink which is a major component should be placed in the north east. Ventilators and Big windows should be placed on the eastern wall in the south eastern corner. Exhaust fan can be placed in the south-east corner of the eastern wall. Dishwasher for washing dishes should have a place in the North West direction of the Kitchen. Color scheme to be used in the Kitchen should be soft pink & orange color.
All the storage cabinets should be constructed or placed in the north- eastern portion and make sure they are used for storing light weight objects only. Drinking water can be placed in the north eastern direction and if you use any water filters, you may install them in the same direction as well.
The refrigerator should be placed in the south western corner and make sure there are no toilets and bathrooms adjoining, above or below the Kitchen. If anyhow, you have them around, the wall between them should be thicker than other walls. While serving food makes sure you do not do so in the centre of the Kitchen. Instead, it should be placed in north-western corner of the room. The person consuming the food should face north east. This Vastu direction is effective for a person having poor digestion.
According to Kitchen Vastu, your cooking range should not be visible from outside to other members of the family as it might lead to digestion problems.
Vastu Shastra for Kitchen provides a key to healthy and prosperous living and has been practiced by many people since centuries. It's an ancient art which if accepted in our lifestyle can help us overcome many obstacles