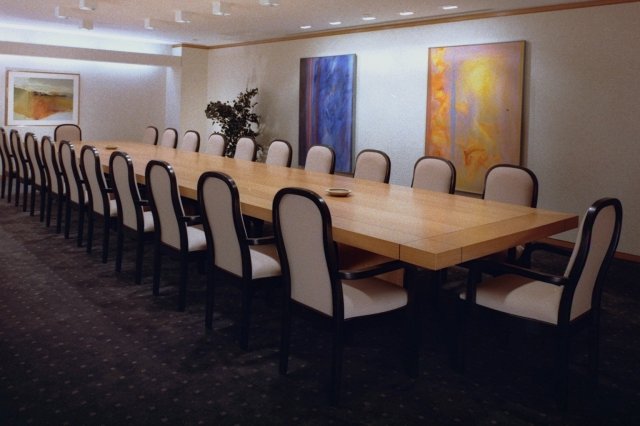 Conference Room Interior Design
A conference room is a very formal and disciplined area in an organization as it is used for important meetings, discussions and brain storming session. This area has to be elegant, comfortable, fully equipped and at the same time a reflection of your organization's vision. There are various ways in which a conference room can be designed depending on the type of organization and the purpose for which the conference room is utilized.
Here are a few ideas on various ways you can set up your conference room :-
Classroom
This kind of conference room setting is ideal for presentations by speakers as well as interactive sessions. You can set up tables facing the front of the room with two or three chairs at each table.
Theatre
This is ideal for maximizing the room space utilization. Rows of chairs are set up facing the front of the room, usually divided by centre and/or side aisles. This setup works well when the audience does not need the tables for taking notes and the presentation is not too lengthy.
Conference
This is the most popular style of meeting room with a long table in the centre and chairs surrounding it from the outside. It is ideal for small brainstorming sessions or leaderless meetings. This provides a perfect visual line for the participants and enhances communication. You can have a U shape table too if there is a presenter who needs space in the front.
Chevron or "V" Shape: This is ideal for small group discussions during or after a large group activity. It creates an enclosed area for the presenter and audience to interact amongst themselves.
Herringbone
This is ideal when small groups need to be placed together as well as have to face a presenter. Appropriate for an all department meeting. Here the audiences are seated in small V shaped structures and face the leader.
There are some conference room equipments which are mostly used in offices. You must have a Projector Screen & Projector, appropriate lighting, LCD, Phone System with facilities such as teleconferencing, speaker phone, voice mail, Webcam, Microphones and speakers, Wi-Fi Internet Connection etc.