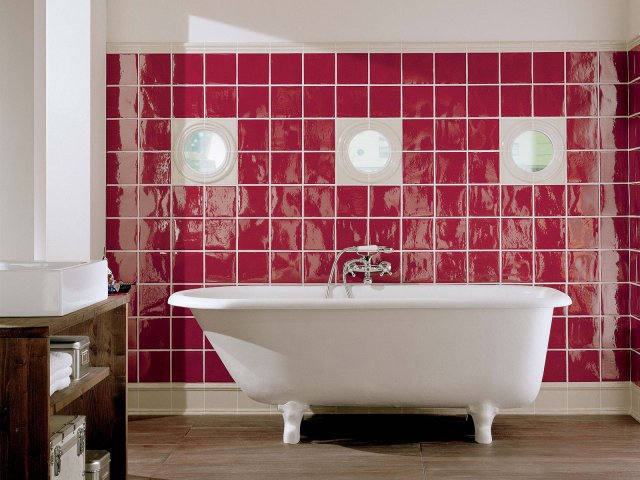 Bathroom Interiors
Happiness is a hot bath among the flowers…
Gone are the days when we tried to spend the minimum time in our Bathrooms as they were the tiniest and dingiest of spaces in our dwellings. The contemporary bathrooms are stylish and luxurious where you can actually relax while you do the needful. They are well accessorized to take care of your hygiene needs and a pride for the owners to show off to their guests. You begin your day in the bathroom and hence need to design and create this personal hub in an elegant way to set the mood right for the rest of the day.
Here are a few suggestions to create your own personal haven :-
Luxury in your secret abode:
Luxury can be defined differently for different individuals. For some simplicity is enduring and for some luxury is what luxury does! Glorious wash basins, whirlpools in the bath tub, slide jets, Jacuzzis, underwater lights or your personal bookshelf; there are countless ways to accessorize and enhance your bathroom. Use of metal or glass in an intelligent way would tempt you to visit this room again and again. It's a personal choice though how you want to define your luxury quotient!
Bathroom floor:
Marble and ceramic are still personal favorites for the surface but there are various options available in terms of color schemes and how you wish to lay your ground. A simple floor would glorify the accessories used in the room and a flashy one could make a simple bathroom look attractive.
Stylish Walls:
Walls are perhaps the easiest of the designing options as you can play with the various colors and style options available to your hearts content. Be careful with the paints though as they are bound to be splashed with water everyday. You can end up with ugly stains in the long run if the right material is not selected.
Light it up with style:
In olden times bulbs were the most preferred choice of light in bathrooms. But contemporary world offers a wide variety of attractive lighting options for your bathe space. Soft fluorescent lights or CFL can produce the required glow to enhance the accessorized space and bulbs can be used on top of mirrors for a dramatic reflection. A grand choice of lamps and lights are available in the market for you to create the desired illumination effects.
Essential Apparatus:
Do not shy away from choosing the right WC for your bathroom as it is perhaps the most essential yet most ignored apparatus. You can choose from a wide selection of shapes and colors that the market has to offer. WC's with standard and concealed flush systems can be sought and bought easily online and offline.
Accessories and more:
An unbelievable choice of washbasins ranging from basic to the most luxurious ones can amaze you while you decide to get one for your bathroom. Aesthetic shapes and designs, attractive colors (other than the traditional black, white and ivory), creative materials can make their way into your space as well as your heart. The taps again would not fail to surprise you with their sculpted almost carved kind of looks. Soap trays, bathroom shelves, towel rails, toilet-paper holders, hooks and toothbrush holders can turn your bathroom into a magnificent piece of art. Go for it!
All said and done the most essential feature of a bathroom is cleanliness. Keep it hygienic and surround it with flowers and room fresheners to complete the look!