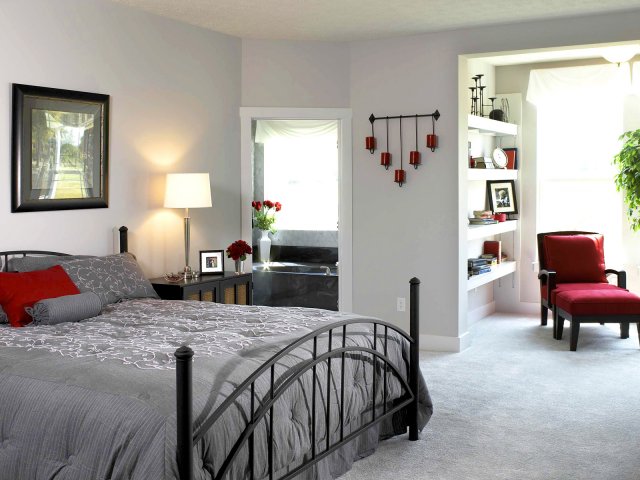 Bedroom Interiors
Bedroom is a haven where you indulge in dreams that shape up your life. It's a place where you are yourself without any inhibitions or worries. After a long day at work, you yearn to nestle in the most personalized space of your house; your bedroom. All this makes the designing of bedrooms most challenging for the interior designers. The bedroom is a reflection of your lifestyle, your desires, your aspirations and your creative expressions. And along with fulfillment of all these essentials, a bedroom also symbolizes comfort as at the end of the day this would be the place you would look forward to, to rejuvenate for the next day's hardships.
There are number of options for your bedroom interior design but it is very important to take note of your personal choices & priorities before you look for any design ideas. Besides the room's basic and actual design, take note of the various requirements and functions that are an essential part of your bedroom. The bedroom should be clean and modernized for an appealing and calm look.
Here are a few valuable suggestions for your bedroom : -
Chose your favorite color for your bedroom
This is a room where you would probably spend the most of your relaxed time. Dress it up in colors that have a soothing effect on your moods and persona. Of course the choice of color would depend on your age, stage in lifecycle, profession, culture and many other factors. But be sure to surround yourself in the hues which suit your personality the most. Subtle colors help you revitalize your energies and relieve your stress. Rich hues can enhance the aura of the room. Try not to choose dark or sharp colors for the bedroom.
Furniture for your bedroom
Although bed is the most important piece of furniture in the room, be sure to adorn it with a combination of functional and aesthetically appealing pieces to complete the look. You will need cupboards, side tables, dressing mirror, headboards etc. But do not overcrowd the room. Start with a floor plan and plan your pieces as per the size of the room. Accessories should be included to enhance the ambience and not act as a hurdle when you move around in your personal haven.
Choose the right ceiling
When you lie on your bed, you perhaps gaze at the ceiling quite a few times. You can choose between a false ceiling and a simple one depending on the height of the room. A beautifully adorned ceiling with dim lights can help you calm your senses and set the mood for the night. Do not overlook the ceiling while designing your bedroom.
The storage requirements
Look for storage options in the bedroom to stack things out of your way when you move around. The modern beds have inbuilt storage for your extra beddings and other requirements. Make sure to have extra cupboards and drawers to add things that you might need in the room. But remember not to spoil the look of the room and store all unwanted things out of sight.
Floor rugs
Carpets make the room look sophisticated and a wall to wall carpet gives the room a feeling of largeness rather than rugs scattered around. However Indian climatic conditions make it difficult to maintain carpets unless the room is air conditioned. You can go for wooden or laminated floors as well, as they are hassle free and can satisfy your creative soul too.
Lighting and accessories
You can opt for decorative lightings to add a dramatic effect to the room but be careful when you chose the lights as you have to think of the functionality as well as the aura of the room. You can start with the main lights (Tube lights and bulbs) and then decide on the decorative lights to complete the look. Throw in gorgeous cushions, bedcovers, quilts and rugs according to your taste and comfort and add a personal touch to your perfectly designed room.