<![if gt IE 6]>
<![endif]>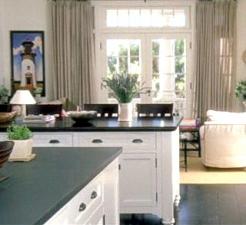 Till a few years back white was a color that was a strict no-no for kitchens. Interior decorators would often come across housewives nagging their husbands to skip white as far as kitchens are concerned.
The amount of labor and time that a white kitchen required to keep it looking neat and tidy cannot be overestimated and overlooked in any way. A white kitchen indeed was and still is a pain.
However, there is no denying the fact that there are few if any colors that can match the elegance, sophistication and soberness that white brings into a kitchen. In case you are planning a house and are skipping white for your kitchen, for the obvious reasons, inspite of your earnest wishes, then think again. Gone are the days when white was the color only for the bedrooms or the living rooms. Gone are the days when white kitchens were only for the ones who had all the time and patience in the world to scrub, wash, and sweep their kitchens day in and day out.
Today you don't need to curb your wishes and even working couples and nuclear families can go for white kitchens. White is one color that actually saves a lot of thought, contemplation, and hard work. The elegance and charm of the color is such that it lends a look of grace, class and tidiness wherever it is used. White is especially a very suitable color for kitchens. Not only does it make your kitchen bright and sober, but it also ensures hygiene in your kitchen as any form of dirt, worms etc become easily visible. As has been already mentioned, you need not work much behind your kitchen style in case you want it white.
The color will do all by itself. In fact the kitchen designing ideas work all the more if the selected color is white. Most of the kitchen appliances are available in white, be it the kitchen tiles, kitchen cabinets or other kitchen accessories. The task of keeping these tiles and cabinets won't work you up much. Today washable and non sticky kitchen materials and appliances are easily available in the market for the convenience of the user. Professionals like the interior designers can help you choose the material that would prove to be lasting, easy to use and also easy on your pocket. The aspect of ventilation of the smoke that is emitted while cooking is to be given proper attention to.
The chimneys and the kitchen exhaust hood are to be placed in such a way that the smoke does not linger within the kitchen and is funneled out immediately. A properly planned ventilation system goes a long way in keeping your white kitchen new and tidy for many years to come. The kitchen flooring is another tricky issue in a white kitchen. There is no denying the fact that maintaining the kitchen flooring is not an easy task. No matter, whatever material is used or however much budget is devoted the flooring does tend to wear if used without care. It is advisable that apart from the regular cleaning, use of clean and soft footwear is advisable while in the kitchen.
It would not only keep your floor clean but would also keep your kitchen hygienic.