<![if gt IE 6]>
<![endif]>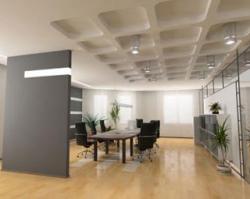 Friends, you cross a road with vehicles menacing all around. How do you feel? You walk down a lane with lush green trees and birds chirping all around. What vibes do you get?
As expected, both the experiences reside far away from each other. The difference was all of ambiance.
As you roll your eyes around your workplace, do you find yourself in an ordeal of thoughts in the middle of NOWHERE? Friends, this is the place where you gorge upon so much of your precious time and effort. This is the site where you associate with an organization or connect personally with a patron. As expected, you ought to feel calm, composed and contended at your place of work. You need to realize the supremacy of 'space'.
The ancient science of vastu uses its insight to guarantee efficiency in your office. Following vastu antidotes for office ensures that, employees work resourcefully and efficiently.
Vastu guidelines for offices are as follows-
The senior officials like managers and directors should be allocated space in southern or western part of the office.

Accounts section ought to be located in the southeast zone.

It is advisable to allot northern and eastern zone to mid managers.

Northwest segment should be set aside for other staff members.

The appropriate place for reception is northeast zone of the office.

It is recommended that employees should work facing towards east or north direction.

Central portion of the office should be kept vacant to place some plants to enhance the beauty and art quotient of the place.

A rectangular desk is suitable for the proprietor.

The ideal locations for pantry are northwest and southeast zones.

The marketing division should be positioned in the northwest portion.

The lobby of the workplace should not be in front of a bare wall.

An aquarium with one black and nine gold fish placed in the North East angle fetches escalation chances.
So, what are you waiting for? Your search for happiness and wealth has been rewarded by the science of vastu. The fruition is an unending process, though the impetus keeps varying. Let the positive cosmic power strengthen your vigor at work. Follow the art of vastu. We craft appropriate surroundings that compose you and make you feel at ease, respected and welcomed. We prosper you