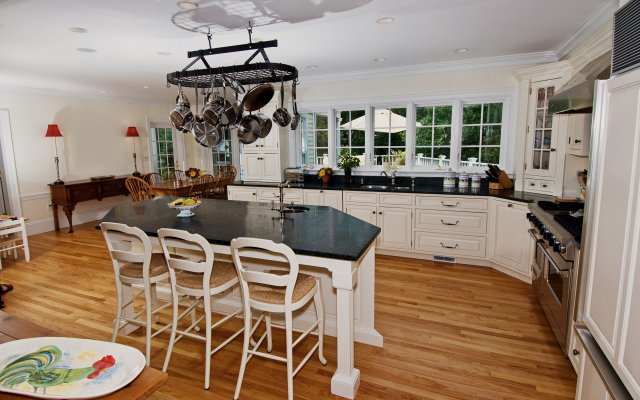 Kitchens and Kitchen Designs:
A kitchen is the heart of the house where you can serve meals and memories….
Whether your home has a large of a small kitchen, if it is intelligently designed and well planned cooking food becomes a pleasurable experience. Kitchen Interiors nowadays has become a serious business as a housewife's role has changed from a simple homemaker to a multi tasker who works within as well as outside the home premises.
Hence Modern kitchens have taken over the normal dull looking kitchen. A modular kitchen is what a high quality designed kitchen would be with some good sections of cabins, shelves, chimney, dish washer and a good amount of storage capacity. A modular kitchen can be designed with your own creativity or with the help of an interior designer. The cabinets are easy to detach and can be easily repaired. Modular kitchen designs come in different variety and it helps in providing a fresh and clean environment.
Here are some handy tips for you to improve your Kitchen interiors keeping in the mind the contemporary demands :-
Design your kitchen as per your taste and convenience as you know what is best suited to your requirements. You can take professional advice and help but lay out your needs and requirements in detail for the designers.
It doesn't matter if the kitchen is small or big but the kitchen interiors and cabins should be properly organized. Everything in the kitchen from small to big should have different sections, so that it's easy and fun to work.
Instead of painting every wall in the kitchen, wall decals can be used, with bright colours. Wall decals need not to be put around chimney sectioned wall as the cooking area will lead to smoke and it will make the wall decal dark. The walls should be painted with plastic emulsion paint, which provides a matt finish and is easy to clean.
One section of the wall in a kitchen can include metal or wood racks for bottle storage. This will keep your stock of bottles organized and neat.
The baking vessels should be kept in a separate cabinet near microwave or oven. The daily use utensils can be kept near dishwashing area. There should be separate cabinet for holding the jars, bottles, oil vertically with different sized dimensions.
The dustbin should be kept in a separate area under the dishwasher area in a cabinet, so that your kitchen surrounding doesn't lead to foul smell.
It is ergonomic and efficient to store dishes below the counter in a drawer making them within reach for small children and those with physical disabilities. A dish-drawer peg-board system can help avoid bumping of dishes into each other as the drawer is closed.
Install cutting boards separately for meat, vegetables, breads and fruits providing convenience as well as hygiene.
Equip your kitchen tastefully with an area specifically for appliances like toaster, coffee maker, food processor etc. but make sure it does not look like a technology park!.
Install organized storage jars to maintain your inventory in a better and cleaner way. With households mostly having both working partners nowadays its better to buy from the bulk section in grocery stores and storing them conveniently.
We will keep posting more on newer concepts of kitchens from around the world. Till then, Happy cooking!