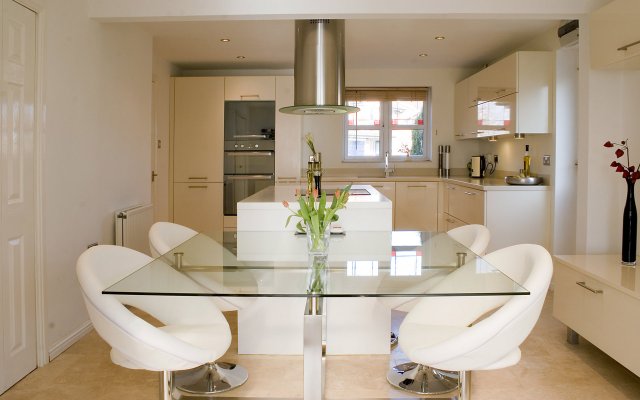 Modular kitchen
The new concept in the Kitchen interiors has been termed as "Modular Kitchen" as it is made up of several modules which collectively form a design. Modular kitchens make our work easier and cooking food becomes fun. It also adds a touch of glamour to the kitchen interiors. Various modular kitchen fittings are available in the market with variety of colors and styles. It does not matter if your kitchen is small or large, modular kitchen interiors can be applied to every size matching your style and requirement. Common modules included in the modular kitchen are chimney, shutters, shelves, cabinets, sink pullout units and baskets. Color schemes in a modular kitchen are available from white, red, blue, yellow and orange to metallic hues of gold, silver and pearl. The amazing color combinations and various patterns of modular kitchen make it extremely stylish and full of perfection. Furniture including tables and chairs can also be added if you feel your kitchen is spacious enough to hold it. With all these benefits, modular kitchen is undoubtedly becoming a need of various families not only in India but worldwide.
Modular Kitchen Accessories :-
Here are the basic accessories which can be included in the modular kitchen design:-
Dish Washer: -
Dishwashers vary in sizes which depend on the capacity and the place where you want to set the dishwasher. It may also depend on the rinse cycles and various washing styles.
Chimneys: -
In modular Kitchens chimney is used to expel smoke from the kitchen. A variety of chimneys is available in the market with unique features. Some get cleaned automatically and some are cleaned manually.
Microwave Ovens: -
A must have in all modern kitchens; Microwaves can reduce the work load to a great extent.
Cooking Range:-
The cooking range is the most important part of the kitchen. The cooking range consists of multiple burners and helps in keeping a kitchen clutter free.
Shutters: -
Today, shutters are in full trend and it's convenient to place kitchen utensils and crockery in them. These shutters are quite durable and reliable. Their quality helps us to maintain them easily.
Advantages of Modular Kitchen
Easy to repair any part of the modular kitchen.
Provides clutter free environment.
Comes in great patterns and designs to match your taste.
Available in ready-to-install pre-fabricated form, which makes it quite convenient.
Easily detachable cabinets and modules.
Modular Kitchen in India
Brands such as "Kitchen by design", "Doors n Doors", "Space wood furnishers", "Karbon Machine", "Amrut International" etc. provide a variety of modular kitchens in India. You can look at various modular kitchen photos available on the internet and have your own kitchen by selecting your favorite design.